CitrinSolar - solar thermal warm water heating systems
The Citrin solar thermal drinking water heating systems are manufactured in Germany and work even more effectively here on Lanzarote and the rest of the Canary Islands thanks to the beneficial solar radiation.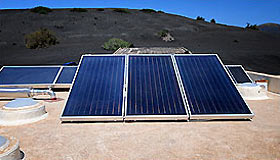 The Citrin solar thermal drinking water heating systems are ecologically friendly and also help you to save money. Here in Lanzarote and in the Canary Islands in general, we primarily use the Citrin thermo solar flat plate collector F 100 CS in connection with the TSS hot water storage tank which is available in 300 liters for 2 - 3 persons, 400 liters for 4 - 5 persons and 500 liters for up to 8 persons.
Of course we can also examine special needs, as CitrinSolar not only builds intelligent storage technology for solar energy in standard sizes for private customers, but also tailored ones in the XXL format for industrial use. We are looking forward to advise you in a detailed interview.
ACS solar

Complete ACS kits for 2 - 8 persons

With our complete ACS solar kits you can save up to 95% of your hot water heating costs. The equipment installation is straightforward and left to adapt to any existing heater. Please contact us for any technical questions that may arise.

| | | | | |
| --- | --- | --- | --- | --- |
| Number of persons | | 2 - 3 | 4 - 5 | 6 - 8 |
| TSS Hot water storage tank system | ltr. | 200 | 300 | 500 |
| Flat plate collector CS 111 SF | uds. | 1 | 2 | 3 |
| Mounting kit for 1 collector | uds. | 1 | | |
| Mounting kit for 2 collectors | uds. | | 1 | 1 |
| Additional mounting kit 1 collector | uds. | | | 1 |
| 25 l Solar fluid | uds. | 1 | 1 | 1 |
| Expansion tank with mounting kit | uds. | 1 | 1 | 1 |
| MSRP | € | 2.820 | 3.565 | 4.830 |

Price including transport, I.G.I.C (taxes) and installation.

Recommended number of collectors in southern orientation and an inclination of 35 - 45 °, Climate Zone III, at a hot water consumption of 45 l/person/day.



Flat plate collector CS 100F - best efficiency!

The Citrin solar flat plate collector CS 100 F was certified as the most powerful high-performance flat-plate collector in its class by leading test institutes. In addition to its high efficiency CitrinSolar also sets a standard in the high quality of their products.

A careful selection of materials and a high standard of anodizing contribute to the longevity of the collectors. CitrinSolar robot manufactured solar thermal flat plate collectors provide a consistent production quality at the highest level.

Preassembled modules, universal applicability, an attractive design and shortest installation times round the whole package from a collector system to the satisfaction of our customers.



TSS Hot water storage tank system

The TSS is a solar storage tank combined with an intelligent solar control system. The solar storage tank is made of steel RST 37-2 with two large-size tube heat exchangers with connections for solar and alternative heating systems such as gas, electrical or connected to a central heating system, high-quality two-layer enamelling, protective magnesium anode, easy access opening, stands and an analog thermometer including high-quality insulation. In addition, the TSS has a cleaning flange (DN 110) has.

Solar storage tank combined with an intelligent solar control system CS 1.2.
High-quality two-layer enamelling, protective magnesium anode
Large size tube heat exchangers
Cleaning flange (DN 110)
Fast and easy mounting

Requirements for solar storage tanks combined with solar systems

In solar hot water storage tanks there is usually cold, warm and hot water at the same time and we observe a thermal stratification which is based on a natural process: Since warm water is lighter than cold water, it will ascend until it reaches a layer of warmer water or the top of the tank. This process facilitates the efficient utilization of solar heat: The higher the temperature difference between Collector and Solar Storage and the longer such a difference exists, the higher the efficiency of solar heating. A cold lower zone ensures that the solar system, even with low sunlight at a low temperature level can still work with good efficiency.

The most basic variant is represented by a bivalent, upright-standing hot water tank for solar systems. Such a tank should be tall and have a relatively small diameter to allow significant stratification. The recommended height - diameter proportion ranges from 2:1 to 4:1. Therefore we do not recommend horizontal hot water storage tanks as those are not very efficient.



---