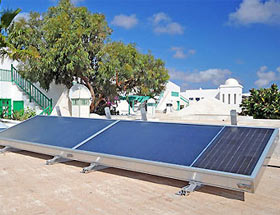 Solar thermal energy Lanzarote - on the sunny side
Lanzarote Solar is based in Lanzarote, the Canary Islands. We are specialized in solar engery especially solar thermal energy. We are offering Solar ventilation & dehumidification, Solar thermal water heating and Underfloor heating & cooling. We supply all the Canary Islands with our know-how and products. The use of alternative energie sources in particular the sun, is almost mandatorty and highly efficient in Lanzarote, Fuerteventura, Gran Canaria, Tenerife, La Gomera, La Palma and El Hierro. For more information please contact us we are pleased to advise you personally.
---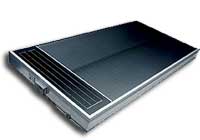 Ventilating, dehumidifying, heating: Solar cells drive a fan that sucks filtred outside air through an insulated air collector that now distributes warm dry air inside your home.
Creates a pleasant, healthy home environment
Forget about humidity and damp rooms
Supplies dry, warm, clean air

---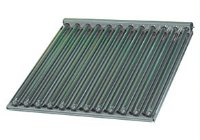 Energy-efficient and environmental friendly water heating system of up to 100% in the Canary Islands with CitrinSolar. No hot water heating costs anymore.
Solar water heating
Highest energy efficiency
Saves your money

---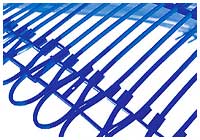 For more than 15 years, conventional HVAC systems are being replaced by the capillary tube mats which can be integrated in floors, walls or ceilings for heating and cooling.
Healthy indoor climate - low temperature heating
Heating and cooling
Dynamic response - heating and cooling phase

---
---
References

Finally a healthy indoor climate, dry walls and cabinets and a comfortable home - even in winter! At zero operating costs.
– Mr. J. Kerker, Jakob Kerker GmbH
---