Lanzarote Solar at Genera 2010 in Madrid!
Lanzarote Solar has visited the solar energy expo Genera last week from the 19 - 21st of May in Madrid. We have seen many new developments in solar thermal energy that we want to pass on to our customers, of course.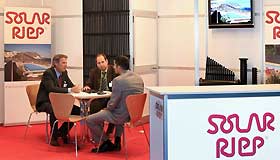 Therefore, we are going to include new products and services to our offer in June 2010.
These include:
Thermosyphon systems from CitrinSolar (compact water heating systems)
Swimming pool heating system SOLAR-RIPP
Inspection & Maintenance of all common Solar Thermal systems
In our product selection, we have, as always, placed great value on high quality products with a long life at favorable prices.
We are looking forward to welcoming you to our website in a near future in order to introduce the new products.
---